Welcome to our
"DID YOU KNOW Corner"
We go through each day replenishing our bodies with food and drink, being sure to get in at least three meals a day. What many have failed to do, is replenish the soul.  Our bodies are temporary and no matter how much we exercise, eat, diet and make them over, they will be dust.  Our soul is eternal and lives on forever. Which do you think is the priority?
Please join us as we journey on the path of salvation.  St. Thomas the Apostle offers many spiritual opportunities for you to deepen your walk and knowledge of Jesus.  We will offer a different spiritual ministry each month that may speak to your heart.  If one or more grabs your attention, please give it a chance by trying it.  The Holy Spirit speaks to us continuously and by many different paths. It could be through a friend, enemy, holy Scripture, a spiritual book or one of these ministries.  Begin now by asking God to give you ears to hear His Spirit speak to you.
Are you looking for something inspiring to do as a family?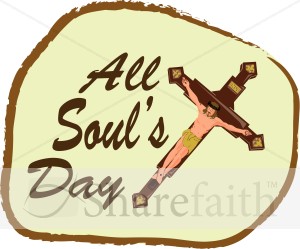 As the weather grows colder and the leaves fall, and Thanksgiving and Christmas approach, it is natural that our thoughts turn to those whom we have loved who are no longer with us.
How appropriate, then, that the Catholic Church offers us November, which begins with All Saints Day and All Souls Day, as the Month of the Holy Souls in Purgatory – those who have died in grace, yet who failed in this life to make satisfaction for all of their sins.
In recent years, perhaps no Catholic doctrine has been more misunderstood by Catholics themselves than the doctrine of Purgatory. Consequently, we tend to downplay it, even seem a little embarrassed by it, and it is the Holy Souls who suffer because of our discomfort with the doctrine.
Purgatory is not, as many people think, one last trial; all of those who make it to Purgatory will one day be in Heaven. Purgatory is where those who have died in grace, but who have not fully atoned for the temporal punishments resulting from their sins, go to finish their atonement before entering Heaven. A soul in Purgatory may suffer, but he has the assurance that he will ultimately enter Heaven when his punishment is complete. Catholics believe Purgatory is an expression of God's love, His desire to cleanse our souls of all that might keep us from experiencing the fullness of joy in Heaven.
As Christians, we don't travel through this world alone. Our salvation is wrapped up with the salvation of others, and charity requires us to come to their aid. The same is true of the Holy Souls. In their time in Purgatory, they can pray for us, and we should pray for the faithful departed that they may be freed from the punishment for their sins and enter into Heaven.
We should pray for the dead throughout the year, especially on the anniversary of their death, but in this Month of the Holy Souls, we should devote some time every day to prayer for the dead. We should start with those closest to us – our parents, for instance – but we should also offer prayers for all the souls and especially for those most forsaken.
We believe that those Holy Souls for whom we pray will continue to pray for us after they have been released from Purgatory. If we live Christian lives, we too will likely find ourselves in Purgatory someday, and our acts of charity toward the Holy Souls there now will ensure that they remember us before the throne of God when we are most in need of prayers. It's a comforting thought, and one that should encourage us, especially in this month of November, to offer our prayers for the Holy Souls.
By Scott P. Richert
Prayer: Jesus, rearrange my priorities. Help me to live a little bit more like you each day. Help me to trust in Your Divine Providence by freely and generously giving to those in need and supporting my parish. 
The Precepts of the Church
You shall attend Mass on Sundays and on holy days of obligation and rest from servile labor.

We must "sanctify the day commemorating the Resurrection of the Lord" (Sunday), as well as the principal feast days, known as

Catholic holy days of obligation

. This requires attending Mass, "and by resting from those works and activities which could impede such a sanctification of these days."

You shall confess your sins at least once a year.

We must prepare for the Eucharist by means of the Sacrament of Reconciliation (Confession). This sacrament "continues Baptism's work of conversion and forgiveness."

You shall receive the sacrament of the Eucharist at least during the Easter season.

This "guarantees as a minimum the reception of the Lord's Body and Blood in connection with the Paschal feasts, the origin and center of the Christian liturgy."

You shall observe the days of fasting and abstinence established by the Church.

"The fourth precept ensures the times of ascesis and penance which prepare us for the liturgical feasts and help us acquire mastery over our instincts and freedom of heart." See below for more about fasting & abstinence.

You shall help to provide for the needs of the Church.

"The fifth precept means that the faithful are obliged to assist with the material needs of the Church, each according to his own ability."
Note that these precepts of the Catholic Church are required, unless you have a legitimate reason for not meeting them. For example:
If you are sick, tending to a sick child, or camping in the wilderness on Sunday and cannot get to Mass, it is not a grave violation to miss Mass that day.
Children, the elderly, and pregnant or nursing women do not have to fast on normal fast days (Ash Wednesday and Good Friday).
ARE YOU HEALTHY??
So let me ask you a question: Are you healthy?
And when I ask that question, what do you think about?
You probably think about physical health, right? "OK, how healthy am I physically?" and, "How's my blood pressure?" and, "How's my cholesterol?" and . . . these sorts things. But are you spiritually healthy?
It's interesting, I think we almost never talk about it. We talk a lot about the health of the body, which, lets face it, at some point is going to be just buried in the ground, and that'll be that. But the soul lives on forever, and we almost never talk about soul health. We almost never talk about spiritual health.
One of the things that Dynamic Catholic is all about, one of the things that this program is all about, is helping people become spiritually healthy—or healthier.
Do you know when you are spiritually healthy? Can you tell that some days you're spiritually healthier than other days? Because that's the kind of awareness that God wants to give us.
I think we can tell some days we're physically healthier than other days. God wants us to have that same sort of perspective on our soul, on our spiritual health.
One of our reasons for the obsession with the physical over the spiritual is because of the immediate impact the neglect of our physicality has.
If you don't eat, you die in a few days. You don't breathe, you die even quicker. And so we are obsessed, in some ways, with the physical because there are very dire consequences to ignoring the physical realities of the human person.
But we do have these spiritual realities as well, and they play out in different ways. And when we do become spiritually unhealthy, I think one of the things is that it distorts our personality. It distorts our personality in ways that affects us from doing what God's called us to do, being the person God created us to be, and from relating with other people in healthy ways.
I think sometimes we all have questions that are on our minds. Questions that are in our hearts. But at the end of the day, I think that a lot of life comes down to four questions:
Who am I?
What am I here for?
What matters most?
And what matters least?
If you look at your day yesterday, did you spend most of your time on the things that matter most, or did you get distracted by a million little things that don't really mean anything to anyone that significant? It happens to us all the time. And not just a day, you could go a whole week and then look back and think, "Wow, I didn't really do anything important this week. I didn't really spend any time on the things that matter most this week." And worse than that, it could be a month, or it could be a year.
Who are you?
What are you here for?
What matters most?
What matters least?
The answers to these questions take a long time to develop. And one of the ways we develop them is through this daily habit of prayer.
Yes, we're resistant to establishing this daily habit of prayer. But by establishing a daily habit of prayer, a few minutes each day, 10 minutes a day . . .
For 25 years I've been encouraging people to spend 10 minutes a day in prayer.
By establishing this daily habit of prayer, God will, very powerfully, answer those four questions. He will show you who you are, and what you're here for, and what matters most and what matters least.